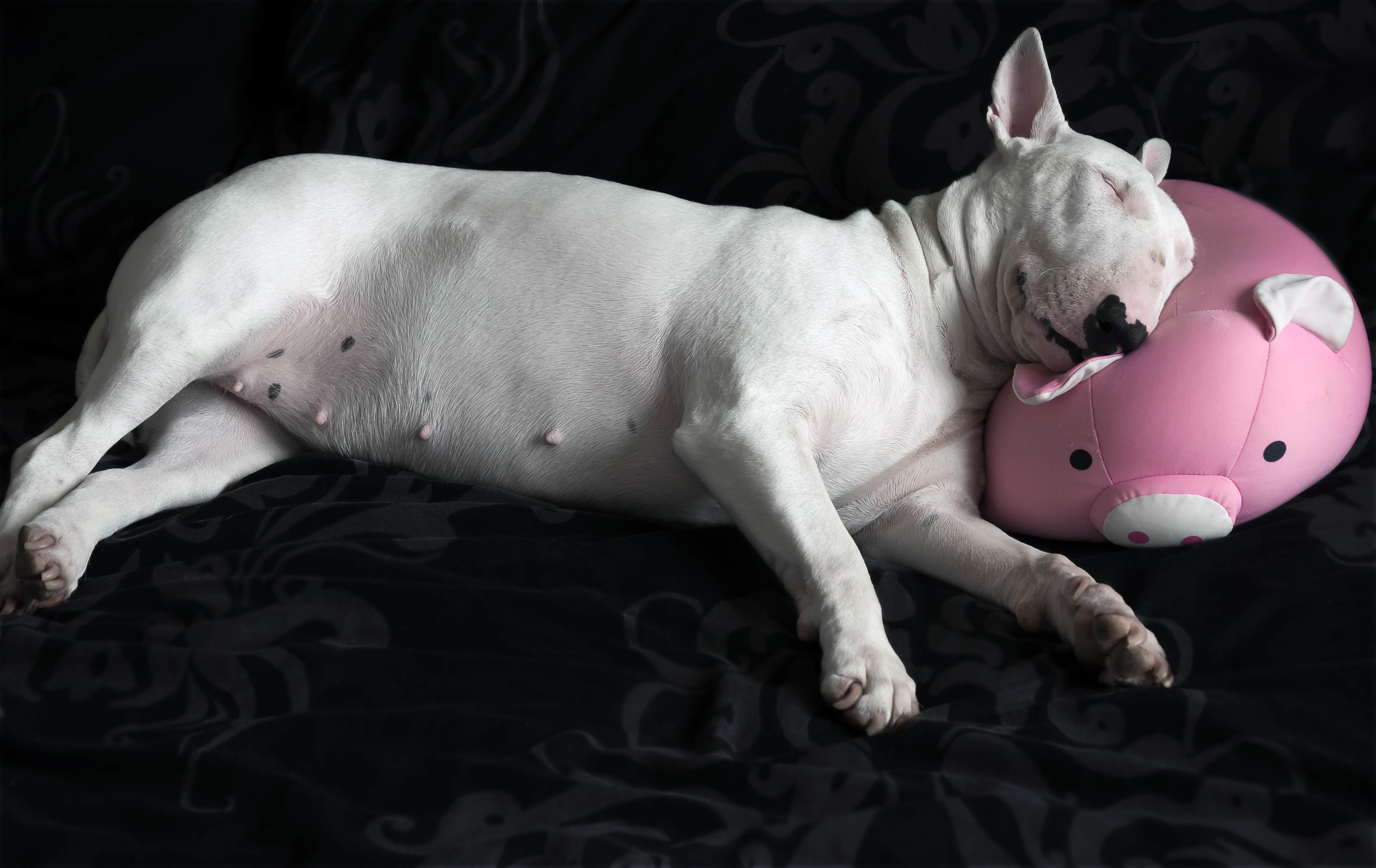 The Bull Terrier Information – Profile – Health – Bull Tererier Info for you
The Internet Archive discovers and captures web pages through many different web crawls. At any given time several distinct crawls are running, some for months, and some every day or longer. View the web archive through the Wayback Machine.
– Top ranked pages (up to a max of 100) from every linked-to domain using the Wide00012 inter-domain navigational link graph
— a ranking of all URLs that have more than one incoming inter-domain link (rank was determined by number of incoming links using Wide00012 inter domain links)
The seed list contains a total of 431,055,452 URLs
The seed list was further filtered to exclude known porn, and link farm, domains
The modified seed list contains a total of 428M URLs
The Comical Bull Terrier
Dog breed info
Bull Terrier
Weight: 50 — 70 lbs
Height: 21" — 22"
AKC Rank 2007 #55
Lifespan: 11—14 yrs
Group Terrier
Origin England
Dog Breed Info – The Bull Terrier
Classic, playful Bull Terrier with toy.
Breed Overview
Origin: 1800's Original function: Companion. Today, Companion.
Around 1835, a cross between the Bulldog and the old English Terrier produced a particularly adept dog known as the Bull and Terrier which was suppose to be the great "fighting dog.". Around 1860, crosses of the Bull and Terrier with the White English Terrier were made in an attempt at getting an all-white specimen. They produced an all-white strain they called Bull Terriers. A new all-white strain immediately succeeded and caught the attention of the public. However, there was tendency for the all-white breed to be born deaf. Crosses with the Staffordshire Bull Terriers produced color in the breed. It was not well accepted at first but finally gained equal status as a separate AKC breed in 1936. The white variety still continues to be more popular, but both varieties are still used as show dogs and pets. The comical nature and expression gets them a lot of friends.
Trainability
Very independent and stubborn. Difficult to train. Use clicker training and positive reinforcement for this dog. He will learn basics, but it may take a professional to do it. This is not a dog for a first time owner.
Crate Training
Want to crate train your Bull Terrier puppy? It's easy and if you're interested, take a look and you'll see what to do. Crate training your puppy will save many headaches and problems.
Potty Training
Bull Terrier puppies can sometimes be difficult to house train, potty train, toilet train, housebreak or whatever you want to call it. If you have a puppy, decide if you want to crate or paper potty train it. For the best results, we have a page at Crate vs Paper Potty Training which will help you decide and from there you can get all the information you need to get the job done. Always praise the pup profusely when she goes potty in the RIGHT PLACE so she knows she has done a good thing. Either method will work for this breed.
If you have an older dog, take the dog outside every two hours until she gets the idea which door leads to her potty area. Older dogs catch on to the potty or housebreaking pretty fast once they are shown what to do.
Temperament
The Bull Terrier is exuberant, comical, playful, assertive, and a bit mischievous. This is an imaginative breed that tends to see the world his own way and is stubborn. He needs daily physical and mental exercise, otherwise he will use his powerful jaws in his own creative ways. For all this toughness, this is an extremely sweet natured, affectionate and devoted dog. However, he can be aggressive with other dogs and small animals.
If you happen to get a Bull Terrier with a separation anxiety problem, that can be dealt with by investing a few hours of work on your part and some "tough love."
Friendly Toward Other Dogs
No. There can be problems with other dogs. Be careful. It can become aggressive.
Friendly Toward Other Pets
Maybe. If the Bull Terrier grows up with other pets, okay.
Friendly Toward Strangers
Maybe. Be careful when around strangers. The Bull Terrier is wary but can adapt so strangers if not thrust upon them.
Playfulness
Very playful. One of the Bull Terrier's strong points!
Good with children
Older children, 7 and up. No tolerance for little kids.
Good with Seniors over 65?
No. Needs too much exercise.
Living environment
Farm. City OK. Can't take too much sun (especially the white) or cold, humid climates. Needs to be indoors where it's warm. Best if this dog has a house with access to a small yard and a doggie door for in-out access.
Energy level
High energy. Rate 8 bars out of 10.
Exercise needs, daily
Lots. Needs two walks or jogging daily plus play time. The Bull Terrier needs good stimulation every day from playing ball, running and so on. This is an active breed.
Excellent. One of this breeds high points.
Very good. Highly protective of family and property.
Very little care needed. Brush occasionally to clean out dead hair. She'll love the extra attention.
Bull Terrier Breeders
In the event you decide to go looking for Bull Terrier puppies, be SURE to find reputable breeders that really know what they are doing. Be sure the puppy has been VERY well socialized and started in obedience training.
Bull Terrier Breeders with puppies for sale.
Bull Terrier Rescue
In the event you are seriously considering the adoption of an older dog and are looking for a Bull Terrier Rescue group or groups in your state, here are several links that might help:
Petfinder – Bull Terrier Rescue – (Nationwide) NOTE – At time of this writing, Petfinder is showing only 211 Bull Terriers for adoption in the entire country. You may need to go online and search for Bull Terrier Rescue groups and look for rescue kennels too.
Adopt A Pet This is an interesting site but you may have to do some web surfing and look for local newspaper classified ads. The Bull Terrier Rescue groups are probably the best answer.
Health Issues For The Bull Terrier
Below are potential illnesses or medical problems for the Bull Terrier as provided by various vets.
This is basically a healthy breed. Don't let the list below scare you! Your own dog will probably never have ANY of these problems. These are medical issues this breed is prone to that have been listed by various veterinarians at different times over the past decade or so and some pertain to puppies and very young dogs that a breeder would deal with.
The information contained herein has been gathered from numerous books by veterinarians and is intended as general information only. Every dog and situation is different. You must see your vet. Our information is for general interest only and not intended to replace the advice provided by your own veterinarian.
Deafness (especially in white dogs) Hereditary or caused by: Excessive loud noise, Intolerance to anesthesia, drug toxicity, and Otitis (middle ear infection), In some cases, one ear can have no hearing from birth and the other ear can be losing the ability to hear over time, undetected, then suddenly one morning the hearing is totally gone. There is no reversing once that happens.
Other health problems could occur with your Bull Terrier. If you notice any problems with your dog, take it to the vet immediately. This website is for general information only and is not intended to, in any way, be a medical guide.
Copyright © 2008 – 2016 All Rights Reserved Do not copy or reproduce any portion of this website without our consent. dog-adoption-and-training-guide.com